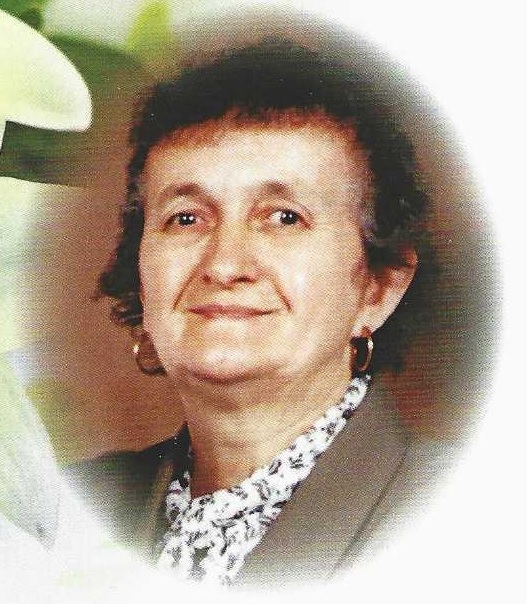 I would like to say a few words about my Mother, Stefania also known as (Stefka). It's been a difficult few weeks since the passing of Mum which was unexpected but the reassurance that we all have is that she passed away quickly and that her strong belief in our Lord means that she is in a far better place now with her beloved Iwan.

Stefania was born in 1936 in the south of Poland in Wiązownica commune in Cetula to Katarzyna and Mikolaj. She was the eldest of 4 children, having 2 sisters, Anna, Marysia and brother, Michal. In June 1947, when she was 11 years old, she and her whole family were resettled as part of "Operation Vistula" to northern Poland, near the town of Małdyty, a village in Ostróda County. Eventually the family settled in the local area where her parents had a farm.
Ukrainian was spoken at home and she learned Polish at the local primary school. She was pretty and a hard-working young woman. In her free time, together with her siblings, she helped her parents on the farm.

After graduating from elementary school, she began attending a sewing course . After completing the course, she worked as a seamstress/dress maker in a local tailors shop.
My Father, Iwan had arrived in England after WWII ended as a displaced person. At that time many Ukrainians were displaced and had arrived in England. He settled well and after several years of moving from town to town, came to live in Bedford. He stayed with friends, was introduced to Mum and they wrote letters to each other, as you did in those days. Mum took the massive decision to leave her family in Poland and make her new life in England.
She arrived in 1964 and they were both happily married and had 2 children, myself and Lesia.
How they came to meet each other is a nice story. My Father was lodging with Michael and Pelagia Hucul on London Road in Bedford. Stefania and Pelagia were distant cousins, so when Mum came over she had a friendly face to greet her. My Mother and Father lodged with them for about 1 year and finally bought their one and only home on Myrtle Road in Bedford, where we were raised and had a good and comfortable life.
The community was very strong in past years with a Church and Social Club in Bedford for Ukrainians and polish alike. This helped everyone to group together and comfort each other as well as ensuring that everyone could integrate into the local community. Both parents would ensure that we all went to mass on Sunday, and we would alternate between the Ukrainian Church on Bower Street as well as Christ The King Church on London Road.
Mum worked as a seamstress for a number of years at a local company on Mile Road in Bedford where she met many friends. Whilst my Father worked fulltime hours, she took the decision to stay at home and look after myself and Lesia, dedicating more time to Lesia due to her additional needs.
Mum had a basic philosophy in life and that was to ensure that she looked after her husband and children. She was most happy when
we all had full stomachs after a hard day at work or school. Not many people find happiness in life but I am sure she was more than happy with her family life.
I remember the times as a teenager when my friends used to come over, and most times not just to see me but so that they could have something to eat. Mum would always enjoy cooking for everyone and they would even come round when I wasn't there, but she never complained and was always happy to see them as part of the family.
Being so far away from family for many years, memorable times for mum were when her family visited giving her an opportunity to see her mother, brother and sisters. Sadly now, her sister Anna is the only sibling left but there is a large family in Poland.
In later years, after being widowed, Mum spent more time with Lesia which she thoroughly enjoyed and her wish was that I would always be there for Lesia when the time came for her own passing. I made a promise that I would always support Lesia and will keep that promise.
As well as spending time with Lesia, Mum was very supportive with her two grandchildren, Michael and Sophie. She looked after both of them when myself and Ivanna were working. Young Michael still has fond memories of popping round after school and being supplied with candy and spending money, which he forget to tell us about, and Sophie always enjoyed going around and making a visit to the post office for snack supplies. I know that they really do miss her.
We have fond memories, many treasured photos and videos that will always remind us of her presence. We will miss her but we also know that she is in a far better place with my Father.