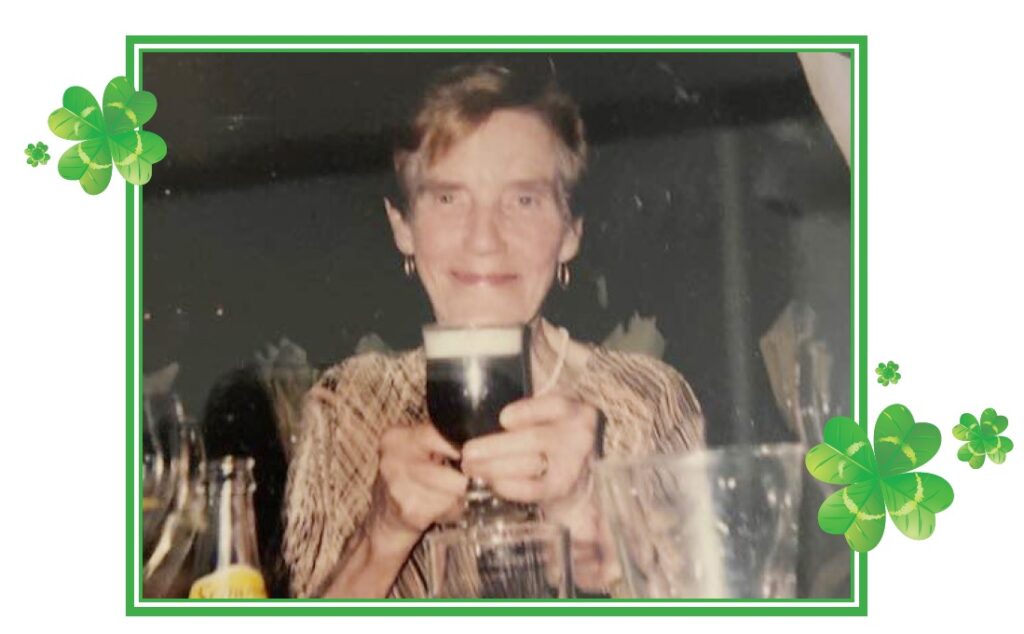 Bridie McGovern's Eulogy given by Tony McGovern.

Mum was born to Michael and Biddy Harte in Johnstown Rathowen 20th July 1930 – A little village in the middle of Ireland.

Mum was the third eldest Maureen, Cathy, both sadly passed stayed in Ireland Mum followed by Anne and Tess sadly passed , Alaco now in Bedford , Michael now in Dublin and Patrick sadly passed.
Mum told me: Times were hard working the farm, hay from the fields and the gathering the turf in the bog – head to toe in the beds – passing down the clothes – She loved the smell of her mums cooking on an open fire – no TV and the radio were closest they got to big wide world – Mum always said they were happy times.
Mum started working early they all the family needed to – working in Wilson hospital in Multyfarnham – she would ride the bike the 12 mile round trip ever day – getting home she would drop the bike on the floor much to my Grandad's disgust – he would say 'Guess you won't be needing that again'
My Aunty Tess (god bless her sadly passing 10 days after my mum) came to Bedford then followed by Aunty Ann, Aunty Alaco and Uncle Pat making their homes in Bedford.

Mum came to Bedford on holiday and decided to come over and live here. Loving the dances from the Catholic club to dances at the Church halls. Mum loved a dance and gin and tonic. Whilst all the sisters and brothers were marrying Mum left it late and at 28 married my Dad (Patrick Joseph) who was around 14 years older than my mum (he was around 42) – It was be a further 6 years or so when Mum fell pregnant, and my dad became a dad at 48 – I was their only child.

I do recall some fun times – Dad had a large car a Zeffa or a Zodiac at Weekends, I can remember lying flat out in the back travelling with Mum and Dad to my cousins the Tighe's, Murphy's, Tompkins and the Harte's in Milton Ernest – where we loved going swimming over in the river – many trips to the Atkins and visits to Ireland seeing my mums and dad's family. Mum wanted to drive so Dad changed our large car to a white Mini – with several books stacked up at the back of the seat and the seat as close as possible to the Window screen – Dad decided to teach Mum to drive. One trip up Cleat Hill saw Mum stall the car again and again so just near the top enough was enough and as it stalled once again, she jumped out Dad frantically grabbing the handbrake and then spending 5 minutes moving the books and manoeuvring the seat so he could fit back in – Mum was fuming and had walked back down the hill needless to say, that was the end of Mum learning to drive.

Mum loved the push bike – she rode everywhere to work, shops no fear at all – although the drivers on Kingsway roundabout that was another story – I'm sure she didn't know the meaning of braking.

Sadly, my Dad health worsen and he passed away on the 13th Dec 1975. Mum found this so hard battling depression and struggling to come to terms with the loss……again her family rallied round.

My mum tried to ensure I didn't miss out saving, probably borrowing she was determined that I went on a Ski trip with the school to Italy– when your young you don't always realise how hard that must have been. But I went … and boy did I enjoy it.

Another occasion one Xmas after my dad had passed, we were at my gran's little two bedroom cottage – I wanted Subbuteo for Xmas Mum and gran pulled together and I got my Xmas present – I set the game up in the tiny main room my Aunty Tess and Uncle Willie were over with boys Michael Des and Iggy. Well …some kind of minor family dispute kicked off and my mum ran out followed by Aunty Tess – my gran being the far side of the kitchen shot across the pitch and two players sunk under my gran's slippers – only had it 15 minutes and we were down to 10 a side.

Those that know Mum know that she adored me – no one was every going to be good enough for her Anthony – by the way Mum used to say your Anthony A N T H O N Y that was fine ..Till I saw my birth certificate and it had no H.

Mum worked hard working at Mander college for years as well as her favourite job in the Grafton – she would love finishing work and coming down and enjoying the company, having a drink and sharing stories from her youth. She loved the Cannings.

Mum was a keen Church goer and found faith attending Church here at Christ The King for many years.

Mum loved taking and picking Joe up from school – bit embarrassing at Mark Rutherford gates as Joe was turning 15. She loved Kellie and then Arche came along – although Archie wasn't as keen on the tight cuddles that Great Gran wanted….
Over the years Amanda helped and supported my Mum in so many ways –Mum would be a tinker but she loved Manda – when Mum was frightened Manda would sit with her late into the night sleeping on the sofa next to her making Tea and Biscuits at 4am to reassure her that it would be alright.

Mum has worked so hard to keep a roof over our heads, she has the felt heart break at a young age 43 losing my Dad – Mum would go to the grave every week if she could. She has been there for me in so many ways, collecting the shopping from town Mum thought she made it when she started shopping in M&S – proudly catching the bus over with her Irish soda bread in tow in her M&S Bag.

She was very close to her family, her sisters and brothers, in-laws she was a major part our family Manda, Kellie, Dan, Archie and Joe. Loving to get out street parties down the Rise with the Bennets and Daniels and of course loved her dance and kiss with favourite Daz Probert.

In her later years Mum was looked after at Dame Alice Court although when she first moved in she did try and escape more than a few times catching her marching up the Grove I guess trying to get back to ours. As her health deteriorated and Mum moved into Hepworth House – they loved her there and she loved them. Thank you for all your support it means a lot to us all. God bless you mum may your spirit be dancing the night away to medley of Irish tunes.